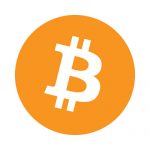 How to buy Bitcoin (BTC) in the UK
Current Price:

£

6,260.35

   24hr:

2.93

%
You don't have to buy a whole Bitcoin – Bitcoins are divisible up to 8 decimal places! Bitcoin is the flagship cyrptocurrency: the first and most popular, and the inspiration for the altcoins. For many of our other guides, you'll notice that BTC is a prerequisite, so this guide serves to explain how to buy Bitcoin in the UK, and with £GBP. Fortunately, as this is the most prevalent coin, it's usually very simple and there are many options.
The guide is structured as follows:
Buying Bitcoin in British Pounds (GBP)
Buying Bitcoin in Euros (EUR)
IMPORTANT: Always store your coins securely. Learn how…
---
Buying Bitcoin in British Pounds (GBP)
Fortunately, some exchanges offer the ability to buy BTC with GBP, avoiding fees associated with buying in Euros and SEPA trades.
GBP Option 1: CEX.io
CEX.io is a fast and easy way to buy BTC (and other cryptos like Ethereum) in the UK, and allows you to use your credit or debit card, or a bank transfer to fund your account and buy your coin.
Convert from: GBP, EUR, USD, BTC
Fund your account with: Credit or debit card, bank transfer
How to buy GBP on CEX…
Add your payment method, which will be either a credit/debit card or bank account – you'll be funding your account in British Pounds
Head to Buy/Sell via the top navigation bar
Toggle BTC and GBP
Enter your amount then click Buy
Success! You purchased BTC

LocalBitcoins has been around since 2012, with no major issues, making it one of the most reputed bitcoin marketplaces. The service links local buyers with sellers, who can then complete the transaction via an agreed method, such as bank transfer or Paym.
Buying Bitcoins with GBP in LocalBitcoins easy:
Head to the main page, where you see the search bar at the top (see image below)
Enter your amount, make sure GBP is set as your currency, UK the location, and optionally select your payment method; though 'All online offers' is a good place to start
Now, you're presented with a list of sellers

It's best to select a seller with a good reputation score and high number of trades – see the image below for how to identify this in the results

Hit Buy, and read the instructions. If you're happy that you can complete payment very soon after initiating the trade, then enter your amount and click the Send trade request button
Make the payment, and mark the payment as complete
Once the trader has verified payment, your BTC will appear in your LocalBitcoins wallet, and can then be sent to any BTC address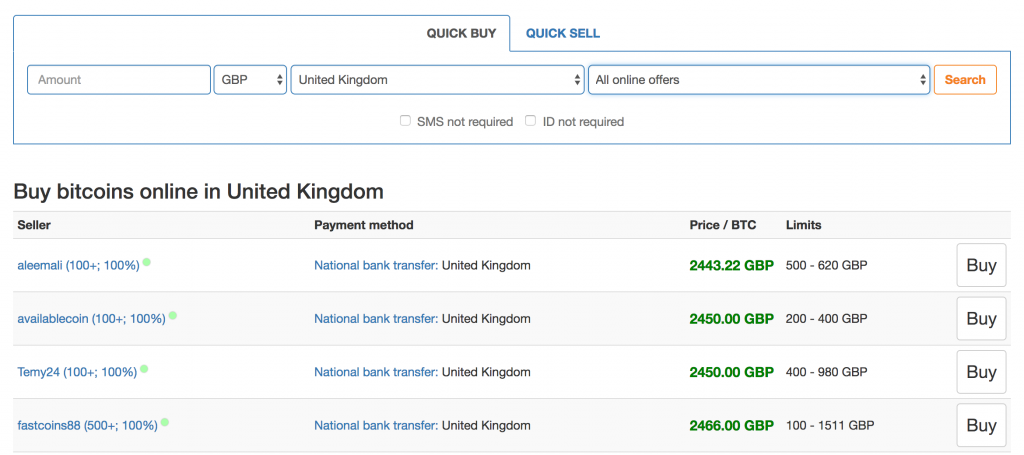 Coinfloor allows you to buy BTC with GBP, and is very easy to use with a good reputation and excellent prices….
Verify your identity by uploading a government-issued identiy
Choose how you want to buy BTC, it's a simple process.
Check out Coinfloor's fees here.
Much like LocalBitcoins, BitBargain, serves as a directory, connecting potential buyers to sellers in their locality, in this case allowing buyers to buy BTC with GBP.
Like BitBargain and LocalBitcoins, Bittylicious is an Over The Counter (OTC) site, connecting potential buyers with sellers in your location.
---
Buying Bitcoin in Euros (EUR)
Cryptopay allows you to deposit Euros to a wallet, which can then be seamlessly converted to-and-from Bitcoins. This means that in times of volatility you can quickly transfer your BTC to fiat currency, and vice versa.
Cryptopay requires you to upload ID and proof of residence, and is headquartered in London.
Sign up here and follow the simple instructions to make your account and buy Bitcoin in GBP
This is our least recommended option, as Coinbase doesn't have a great track record in terms of customer service. However, it is a large exchange, and can be a good option for buying BTC fast with Euros.
It is strongly recommended that buyers are sure to not leave their coins on the exchange after their purchase, storing them instead in a private wallet.