We often receive questions about how to sell a particular cryptocurrency, so we made this page to outline the general process for how to cash in your crypto for GBP or another fiat currency.
Essentially, you follow the process of buying cryptocurrency in reverse.
Looking for an easier, bank-friendly option?
No time to deal with multiple exchanges and fees? Get paid for your cryptocurrency via UK bank transfer with BC Bitcoin.
They accept all major cryptos, including BTC, ETH, XRP, and many more.
Sell your crypto for GBP today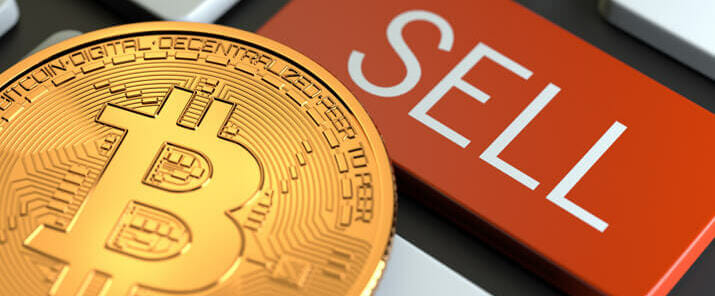 The way in which you are able to cash out your crypto for GBP depends on which cryptocurrencies you're holding:
If you're looking to sell popular cryptos like Bitcoin, Ethereum, and Ripple, you'll likely be able to trade directly to GBP as outlined in Option 1. Selling Bitcoin to GBP is the easiest.
If you're trying to cash in a less popular crypto (or, 'altcoins'), you'll likely need to first trade it for one of the more popular coins, as explained in Option 2.

---
Option 1: Sell Crypto Directly for GBP
Sell Bitcoin for GBP
This option is the easiest, but is only available with certain (larger) cryptocurrencies.
Updated March 2020: there are now a variety of easier options for cashing out your crypto directly to British Pounds (GBP).
Below are the GBP and EUR trading pairs for two reputable exchanges: CEX.io and Coinbase.
If you see the cryptocurrencies you wish to sell for GBP/EUR listed below, it means you can do so directly on these platforms
BC Bitcoin has the most GBP trading pairs, and allows you to sell directly to your bank account.
GBP & EUR Trading Pairs: ADA, BAT, BCD, BCH, BNB, BSV, BTC, BTG, BTT, DCR, DGB, DOGE, EOS, ETC, ETH, ETN, HBAR, HOT, ICX, LINK, LSK, LTC, MANA, MIOTA, NANO, NPXS, NXS, OMG, ONT, PAX, PPT, QTUM, REP, SC, STEEM, TRX, TUSD, USDC, USDT, VET, WAVES, XEM, XLM, XRP, XTZ, ZEN, ZIL
GBP Trading Pairs: ADA, ATOM, BAT, BCH, BTC, ETH, GAS, LTC, MHC, NEO, XRP, XTZ
EUR Trading Pairs: ADA, ATOM, BAT, BCH, BTC, BTG, BTT, DASH, ETH, GAS, LTC, MHC, NEO, OMG, ONG, ONT, TRX, XLM, XRP, XTZ
GBP Trading Pairs: BTC, BCH, ETH, ETC, LTC
EUR Trading Pairs:

BTC, BCH, EOS, ETH, ETC, LTC, XLM, XRP, ZRX
See your cryptocurrency listed above? Great! It's going to be easy to sell for GBP or EUR.
Just sign up for an account at those exchanges (if you don't already have one), and send your coins there to be traded for GBP/EUR.
---
Option 2: Cryptocurrency -> BTC/ETH -> GBP
If you don't see a GBP/EUR trading pair for your cryptocurrency in Option 1, you will most likely have to first exchange it for a coin that does have a GBP trading pair (BTC or ETH are usually your safest bet).
Then, when you have your BTC or ETH, you can sell that directly for GBP as highlighted in Option 1.
The diagram below outlines the process, with example exchanges/services you could use: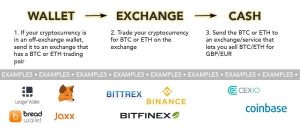 Step 1: Send your coins from your wallet to an exchange
If you left your coins on an exchange wallet (which we strongly advise against), you can skip the first step.
You need to get your cryptocurrency onto an exchange that offers a trading pair for your coin and BTC or ETH. In the diagram above there are some example exchanges that have many trading pairs, so they're a good place to start. If you can't find an exchange with a BTC/ETH trading pair for your coin, contact us and we'll do our best to help.
Recommended exchanges:
Step 2: Trade your coins for BTC or ETH
Now that you've sent your coin to the exchange, go ahead and trade it (sell it) for BTC/ETH.
Step 3: Sell your BTC or ETH for GBP or EUR
Now, trade your BTC or ETH for GBP or EUR. Then, follow the withdrawal instructions for the exchange you're using.
It may be best to check which UK banks allow you to interact with cryptocurrency services before making a large withdrawal.
Top tip: Always check the fees you're paying — and compare rates — as it may actually cheaper to sell your Bitcoin or Ethereum for Euros, even with currency conversion fees.
---
Sell Crypto in P2P Market
Peer-to-peer is when you sell crypto in an open market to individuals. In the above options, it is usually you selling the Bitcoin to the exchange and the money is sent to you from them. However, P2P exchanges only act as an intermediate to facilitate the trade. Buyers usually list the price that they're willing to pay, with reviews and reputations that are made public. The exchange is an escrow, which after your confirmation that the buyer has sent you the money releases the crypto to them. P2P markets are usually limited by cryptocurrencies. Most only cater to the major cryptocurrencies such as Bitcoin and Ethereum.
Step 1: Selecting a P2P Crypto Exchange
LocalBitcoins: One of the oldest P2P cryptocurrency exchanges. It is based out of Helsinki, Finland and supports almost every payment method in the UK.
Paxful: Paxful came much later than LocalBitcoins. But it offers similar options and has a large number of buyers.
You can't go wrong with both exchanges. Choose the one that you find the most appealing according to individual seller ratings and the payment methods you want to use.
Step 2: Opening a sale
For this example, we are going to use LocalBitcoins. First Click on the wallet above and bring in the Bitcoins you want to sell. Once the funds are ready, click on 'Sell Bitcoin' at the top. You now have a list of buyers that you can choose from. It is very important to choose the right buyer. Each buyer sets their own price, limits, and the payment methods.
Click on sell once you find a buyer that works for you. It is straightforward to fill in the amount of Bitcoins to sell. Sometimes, individual buyers also have their own terms. Make sure to read it up.
Step 3: Closing a sale
After opening a sale, patiently wait for the buyer to send your funds to the payment method of your choice. While most sellers are quick to respond, they usually have a window of 1 to 2 hours. Once they've transferred the funds, they mark it as such and you get a notification. Make sure you've received the money and release the Bitcoins.
---
If you're looking to buy Bitcoin, check out our guide. Alternatively, we also have a detailed list on Banks that are Crypto Friendly in the UK.
As always, feel free to contact us should you need any more help
– The CBC team