How to buy Bitcoin Cash (BCH) in the UK (2023)
Bitcoin Cash is a fork of Bitcoin, and below are few options on buying BCH in the UK. The easiest way to buy Bitcoin Cash is with Binance.
Alternatively, the more complicated option is to trade Bitcoin (BTC) for Bitcoin Cash on an exchange such as Binance – this option is especially useful if you wish to buy other cryptocurrencies, as you can trade them for your Bitcoin on exchanges. We also present other options, should you wish to explore them.
Options and information is presented in this order:
Recommended: Binance (recommended)
I. BTC -> BCH on Binance (best price)
II. CEX.io
III. Help
---
Recommended: Buy Bitcoin Cash with Binance
If you are new to the crypto space, Binance is undoubtedly one of the well-known cryptocurrency trading platforms. The massive trade volume and the options for other currencies make it the best.
Here's how you can buy BCH with Binance: 
Next, proceed with the verification process
Once you are verified, you can buy BCH on Binance via Credit/Debit card, Bank Deposit, P2P trading and third-party payment
You will receive the BCH to your account once you have successfully paid
This is a great option for anyone looking to buy Bitcoin Cash with British Pounds or Euros in a simple and safe way.
Binance accept debit and credit cards, as well as bank transfers including UK Faster Payments and SEPA transfers.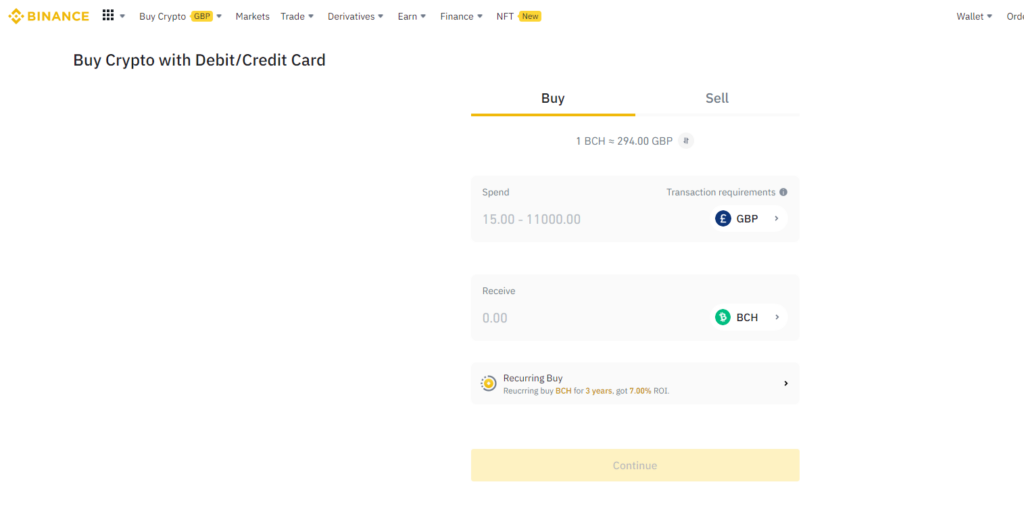 ---
I. Bitcoin -> Bitcoin Cash with an Exchange
You can achieve the most competitive rates by trading Bitcoin for Bitcoin Cash on an exchange. This is also a great option if you're looking to buy other cryptocurrencies, as having Bitcoin makes trading on exchanges easy. In this guide, we will use Binance exchange…
This guide assumes you already have Bitcoin. If you don't, you can buy Bitcoin at any of the following options:
or, click here for a detailed guide on buying BTC in the UK
Waiting for a bank transfer or verification? Get a head-start by signing up for your Binance account while you wait…
Bitcoin (BTC) -> Bitcoin Cash (BCH)
Now, we will use Binance (the most popular crypto exchange) to buy Bitcoin Cash with Bitcoin…
Register for a Binance account here
Deposit Bitcoin to your account (your Binance Bitcoin wallet) by heading to Funds -> Deposits in the top menu

Select BTC from the drop-down menu, and copy your BTC Deposit Address

Send your Bitcoin to this address.
i.e. if you purchased BTC from CEX.IO, use their 'withdraw' page to send BTC to your Binance BTC wallet.

Once Bitcoin has reached your Binance wallet, head to Exchange -> Basic via the top navigation bar.
Use the panel to the right side of the screen (which shows many currency pairs alphabetically, starting AMB/BTC, ARK/BTC, etc.)

Type BCH in the search bar
Click the BCH/BTC link to reach the market page

Using the Buy BCH panel, set your Buy parameters, and click the green buy BCH buttonConfused by different order types?
Limit: allows you to specify the price at which the order will 'fill'. If the price is rising, the order may not get filled, but if it does get filled it will always be at the price specified (or, sometimes a better price).
Market: buy or sell at the current price. Market orders always get filled, but in a volatile market are often risky as you won't know the exact buy/sell price until after the order has filled.
Stop-Limit: we recommend you read Binance's article about this type of order.

This places an order, which can be monitored via the Orders tab in the top navigation bar, or directly below the Buy box in the Open Orders pane
When your order is filled, the exchange is complete, and your BCH will appear in your BCH wallet under the Funds -> Balances page
Congratulations, you have purchased Bitcoin Cash!
---
II. CEX.io (GBP)
Buying Bitcoin Cash (BCH) on CEX.io is easy. You can use your Debit/Credit card to buy with Euros, or link a bank account to send Euros to your CEX.io wallet.
July 2019 UPDATE: CEX.io now accepts Faster Payments, i.e. free and instant GBP deposits (up to £250k).
Firstly, sign up for an account here.
Now that you have an account, you can choose between the following options:
Buy BCH directly with a credit/debit card (Super Easy Method)
Click BUY/SELL in the top menu
Select BCH and GBP from the drop-down boxes
Choose your amount and hit BUY
Fill out your card details
Congratulations, you bought BCH!
Deposit GBP to your CEX.io account and trade for BCH and other Cryptocurrencies (Slower, but more trading flexibility)
Click the green DEPOSIT button in the top right corner
Choose GBP as the currency, and enter a quantity
Follow the instructions to link your bank account
When you have funded your CEX.io account with British Pounds, you can use either the BUY/SELL page, or the TRADE pages

Using Trade gives you more flexibility in your orders, and allows you to access other markets
---
III. Having difficulties, or not sure which option is best for you?
Contact us and we'll do our best to help.