How to Buy Ethereum in UK (2023)
Ethereum Price GBP
Current Price:

£

1,787.78

   24hr:

2.30

%
What is Ether?
You may have heard people talking about Ether and wondered what they're referring to.
While some people erroneously use Ether and Ethereum interchangeably, the two are actually distinct. Ether is a kind of fuel that powers transactions on the Ethereum blockchain. Decentralised applications (DApps) that use the Ethereum blockchain require Ether to incentivise the fulfilment of the transactions they require.
This guide explains how to safely and easily buy Ethereum in the UK. Ethereum (ETH) is the second-largest cryptocurrency, and hosts a great number of ERC20 tokens on its blockchain. The below steps explain how to buy Ethereum in the UK, and with British Pounds (GBP) or Euros. Our recommended option is Binance: it's foolproof and their customer service is exceptional. At the end of this guide, we give recommendations on how to safely store your Ethereum.
Best way to buy Ethereum UK: Binance
Alternate option: CEX
Buy Ethereum on Coinbase UK
Fallback Option: Bittylicious
Buy Ethereum UK with Debit Card
Ethereum Wallets
Best way to buy Ethereum UK: Binance
If you are new to the crypto space, Binance is undoubtedly one of the well-known cryptocurrency trading platforms. The massive trade volume and the options for other currencies make it the best.
Here's how you can buy ETH with Binance: 
Next, proceed with the verification process
Once you are verified, you can buy ETH on Binance via Credit/Debit card, Bank Deposit, P2P trading and third-party payment
You will receive the ETH to your account once you have successfully paid
This is a great option for anyone looking to buy ETH with British Pounds in a simple and safe way.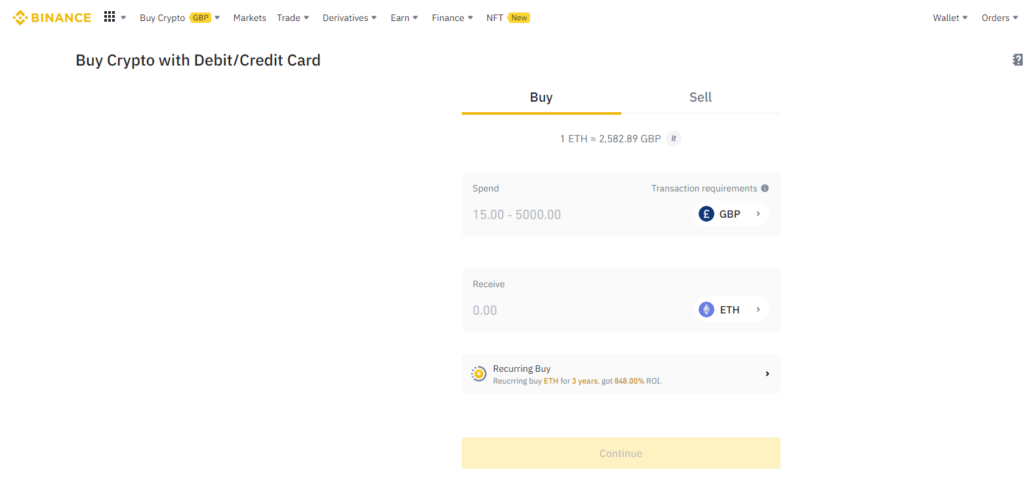 ---
Buy Ethereum in the UK today with CEX
CEX.io is a fast and easy way to buy Ethereum (and other cryptos) in the UK, and allows you to use your credit or debit card, or a bank transfer to fund your account and buy your coin.
Convert from: GBP, EUR, USD, BTC
Fund your account with: Credit or debit card, bank transfer
How to buy ETH on CEX…
Sign up for an account here, by clicking Buy ETH or Register in the top right corner
Add your payment method, which will be either a credit/debit card or bank account
Head to the TRADE page via the top-left menu
From the left-hand panel, expand the ETH panel and choose ETH/GBP
Scroll to below the charts, and enter the amount you wish to purchase in the Buy ETH box
Move your coin to a wallet – we recommend Jaxx – see the guide at the bottom of this page

We love CEX because it's so simple and fast, and allows you to use your credit/debit card easily – that's why we recommend it first. However, there are other ways of buying ETH in the UK…
---
Buy Ethereum on Coinbase UK
Coinbase is one of the largest crypto exchanges, but has low trust scores and has been plagued by complaints and downtime in recent months. Therefore, we recommend that you use Binance or CEX to buy Ethereum in the UK. If you do choose to use Coinbase, we urge you to move your ETH off the exchange ASAP after completing your trade, and into a wallet such as Jaxx – see the bottom of this page for more details on how (and why) to do this.
Despite its reliability issues, Coinbase is very popular due to its ease of use and multiple payment methods. The process is very simple:
Sign up for Coinbase (use this link for a bonus)
Connect a credit or debit card, or bank account – fund your account in Euros
Click Buy/Sell and specify an amount of ETH to buy
Click Buy Ethereum
Move your ETH to a wallet, see below

---
Fallback Option: Bittylicious (£GBP)
If you don't fancy using an exchange, you can buy Ethereum and other cyrptocurrencies on Bittylicious, provided that you already have a wallet. This site is solely dedicated to buying bitcoin and altcoins such as Ethereum with British Pounds (GBP), from other British sellers.
Set up an Ethereum wallet (if you haven't already done so). We recommend Jaxx
Head to Bittylicious and select 'Ethereum' from the coin drop-down
Enter your Ether address (from the wallet you set up) and email address
Specify the amount of ETH you'd like to purchase
Choose whether you'd like to pay by bank transfer, credit/debit card, or Paym – Bank transfer is the cheapest option
Hit Get some coins and follow the instructions
Coins will be delivered to the wallet address you specified

---
Buy Ethereum UK with Debit Card: Binance
Binance is a popular option among traders for its various trading options. The exchange also supports buying Ethereum and other major cryptocurrencies with debit or credit cards.
1. Sign up for an account on Binance and verify your identity.
2. At the top, select "Credit/Debit Card" under "Buy Crypto."
3. Make sure the currency is set to GBP and the Coin to ETH.
4. Type in the amount of GBP that you want to want to spend, and hit Buy.
5. The last step is to enter your card details in the pop-up window. Binance supports both Visa and Mastercard for crypto purchases.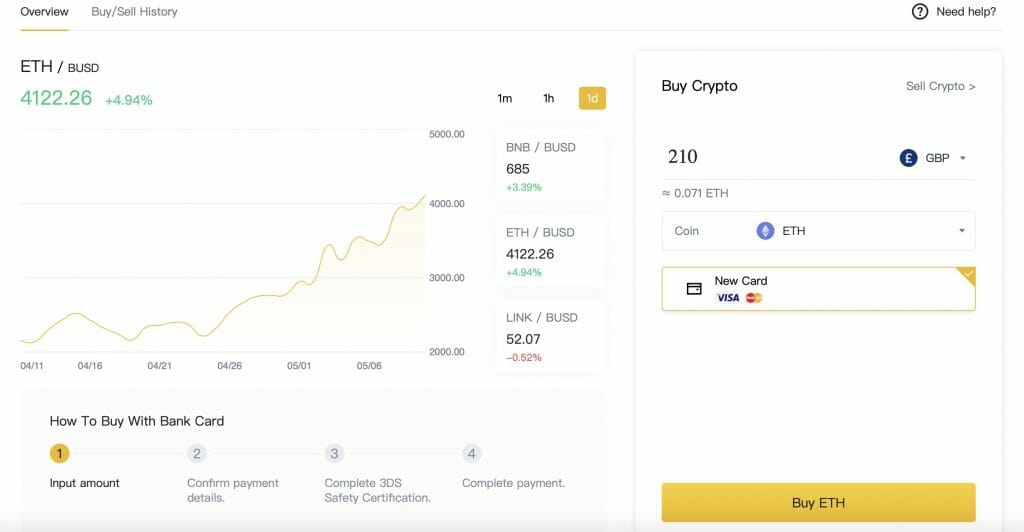 ---
Ethereum Wallets: Safely Storing your ETH
We always recommend that you move your cryptocurrencies off of exchanges if you are planning to hold on to them. This way, you'll hold the keys to your wallet, and therefore will truly own your coins.
Hardware Wallets (recommended)
The most secure option that we recommend is to purchase a hardware wallet: a small electronic device that is immune to many of the threats that software wallets face (such as viruses and hacks).
The most reputable and appropriate hardware wallet for most of our visitors is the Ledger Nano S, which allows you to securely store a number of cryptocurrencies, including Ethereum. You can see a full list of supported cryptocurrencies here.

Software Wallets
If you're not yet ready to invest in a hardware wallet, a software wallet can be used. But please remember that the wallet is only as secure as the device it is on. If the device is compromised, it could result in loss of funds, making it impossible to recover. However, following the best practices for your device should keep your wallet safe. With this in mind, here are some of the best Ethereum Wallets:
Exodus Wallet (Desktop and Mobile)
Atomic Wallet (Desktop)
MyEtherWallet (Web-based Desktop Wallet)
MetaMask (Browser-based desktop, ideal for interacting with decentralised applications)
---
Other popular coin buying guides:
Buy Bitcoin in UK
Buy Dogecoin in UK
Buy Harmony (ONE) in UK