Buy VeChain UK
VeChain (VET) Price in GBP:  £0.02   24hr: 4.10%
VeChain (VET) provides blockchain solutions to a variety of industries, and has recently secured large contracts with companies like Microsoft and Renault. The easiest way to purchase VET is via Binance. If you would rather buy VET on an exchange, we first need to buy Bitcoin.
---
Where to buy VeChain UK
Buy VET With Binance
Trade BTC for VET on an Exchange
Buy VeChain on Binance
Buy VeChain with Credit Card
Where to buy VeChain UK
Our recommended method method of buying VeChain in the UK is through Binance. Here are some of the following places where you can acquire VeChain in UK:
Coinbase
KuCoin
Huobi
Read on how to buy Bitcoin through various methods including exchanging your Bitcoin for VeChain or buying with your credit card.
Recommended: Buy VET with Binance
This is a great option for anyone looking to buy VeChain (VET) with British Pounds or Euros in a simple and safe way.
If you are new to the crypto space, Binance is undoubtedly one of the well-known cryptocurrency trading platforms. The massive trade volume and the options for other currencies make it the best.
Here's how you can buy VET with Binance: 
Next, proceed with the verification process
Once you are verified, you can buy VET on Binance via Credit/Debit card, Bank Deposit, P2P trading and third-party payment
You will receive the VET to your account once you have successfully paid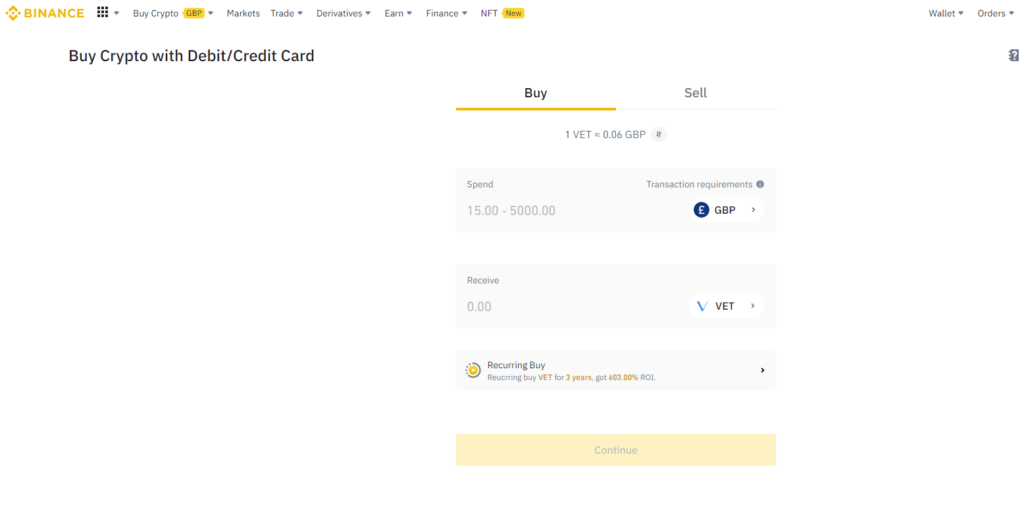 ---
Option 2: Trade BTC for VET on an Exchange
Step 1: Buy Bitcoin
In this method, you will trade BTC for VET using Binance. Thus, in order to begin, you first need to acquire some Bitcoin (BTC)…
Buy Bitcoin: You can do this via the following self-explanatory services:
Click here for a detailed guide on buying BTC in the UK, including many more options.
Step 2: Bitcoin -> VeChain
Register for a Binance account here
Deposit Bitcoin into your account by heading to Funds -> Deposits Withdrawals in the top menu

Click the + next to Bitcoin to reveal the wallet address – send Bitcoin here

Once Bitcoin has reached your Binance wallet, head to Exchange -> Basic via the top navigation bar
Use the panel to the right side of the screen (which shows many currency pairs alphabetically, starting AMB/BTC, ARK/BTC, etc.)

Type VET in the search bar
Click the VET/BTC link to reach this page

Scroll down to the Buy VET panel, set your Buy parameters, and click the big green button

This places an order, which can be watched via the Orders tab in the top navigation bar
When your order is filled, the exchange is complete, and your VET coin will appear in your VeChain wallet under the Funds tab
Congratulations – you bought VeChain!

Buy VeChain on Binance
Binance is another popular option for buying VeChain. In fact, at the time of writing this article, the top 3 trading pairs for VeChain are on Binance and it also supports trading against GBP.
One option is to buy BTC and deposit it on Binance to trade it for VET as shown above. Another option is to directly buy VET for GBP on the exchange.
Buy VeChain with Credit Card
Credit Card is often one of the easiest ways of buying VeChain and other cryptocurrencies. With Binance, as shown above, you are immediately shown options to buy VeChain with a credit card.
In case of Binance, you can buy VeChain with Credit card with a few extra steps. After logging into Binance, click on Credit/Debit Card under Buy Crypto. Make sure you set your currency to "GBP" and search for "VET" under Receive. Set the amount of GBP you want to spend, and click continue. The rest of the process should be straightforward and once you've paid with your credit card, you should receive the VET straight into your account.
---
For more on Cryptocurrencies, check out our comprehensive guide to the best crypto-friendly banks in the UK and Bitcoin Debit Cards.