How to buy DigiByte (DGB) in the UK
Current Price:

£

0.0061

   24hr:

2.31

%
You can purchase DigiByte using your British debit/credit card (or bank transfer) using Binance. While Binance is the simplest method, you may prefer to use a cryptocurrency exchange. To do so, you will first need to acquire Bitcoin (BTC) and then trade it for DGB on an exchange. We outline both options below. At the end of the guide, we provide advice on safely storing your new DigiByte.
---
Recommended: Buy DigiByte with Binance
This is a great option for anyone looking to buy DGB with British Pounds in a simple and safe way.
Binance accept debit and credit cards, as well as bank transfers (including UK Faster Payments).
If you are new to the crypto space, Binance is undoubtedly one of the well-known cryptocurrency trading platforms. The massive trade volume and the options for other currencies make it the best.
Here's how you can buy USDT with Binance: 
Next, proceed with the verification process
Once you are verified, you can buy USDT on Binance via Credit/Debit card, Bank Deposit, P2P trading and third-party payment
You will receive the USDT  to your account once you have successfully paid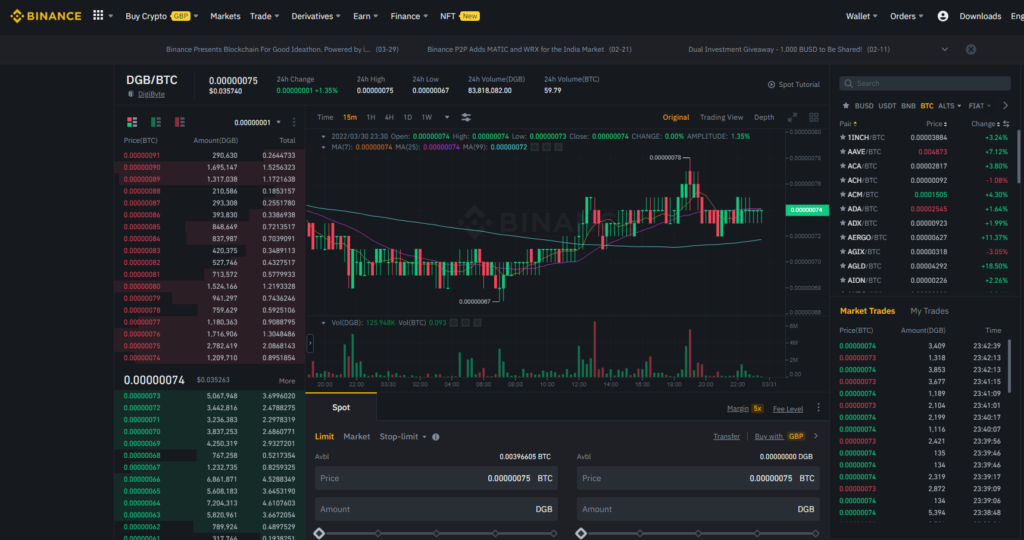 ---
Alternative: Buy BTC and trade for DGB on an exchange
There are not many reputable cryptocurrency exchanges that offer DigiByte, so we do recommend our first option, above. However, if you do wish to trade BTC for DGB on an exchange, you can use KuCoin.
This step assumes you already have Bitcoin. If you don't, you can buy Bitcoin at any of the following options:
or, click here for a detailed guide on buying BTC in the UK
Trading BTC for DGB
Register for an account at KuCoin here

Set up 2 factor authentication (2FA) for the necessary account security

Send Bitcoin to your KuCoin wallet

Head to Assets in the top menu
Click Deposit next to Bitcoin
Send your Bitcoin to the address that is revealed

When your Bitcoin arrives in your KuCoin wallet, head to Markets

Search DGB and click the DGB/BTC trading pair row
Use the Buy DGB panel (pictured below) to fill out your order details

NB: you may have to enter your 2FA code to access this panel

Click Buy and wait for your order to be filled

When your order is filled, your DigiByte (DGB) will appear in your DGB wallet under the Assets page
Congratulations, you successfully bought DigiByte! Now, store it safely…
---
DigiByte Wallets: Safely Storing your DGB
We always recommend that you move your cryptocurrencies off of exchanges if you are planning to hold on to them. This way, you'll hold the keys to your wallet, and therefore will truly own your coins.
Hardware Wallets (recommended)
The most secure option that we recommend is to purchase a hardware wallet: a small electronic device that is immune to many of the threats that software wallets face (such as viruses and hacks).
The most reputable and appropriate hardware wallet for most of our visitors is the Ledger Nano S, which allows you to securely store a number of cryptocurrencies, including DigiByte. You can see a full list of supported cryptocurrencies here.