With the recent rise in the popularity of cryptocurrencies, the number of options for storing digital assets has exploded. It used to be that your options were limited to a single wallet: a paper wallet. However, over the last few years, the crypto wallet market has exploded with options, and it can be difficult to know the best options for your situation.
A cryptocurrency hardware wallet is a physical device that holds your cryptocurrency's private keys in a secure environment. These keys are generated and stored offline rather than online on a computer. Your digital coins are effectively inaccessible if your computer is hacked or stolen. 
There's an increase in the number of cryptocurrency hardware wallets, and it can get quite confusing. We evaluate factors such as physical security, ease of use, and backup and restore. Here are the best crypto wallets of 2022.
Things to Consider:
– Ease of use: Choose a hardware wallet that is easy to use.
– Ease of recovery: Choose a hardware wallet that is secure, but allows you to safely recover your crypto if you lose your access key.
– Backup key: Your hardware wallet should have a backup key in case you lose your access key.
– Protection from physical theft: Choose a hardware wallet that keeps your crypto safe from physical theft.


The Ledger Nano X is an update to the Ledger Nano S, adding Bluetooth connectivity, a slightly larger screen, and a color display. The Nano X's screen is bright and easy on the eyes, but it also makes text easier to read. The backlight can be turned on or off manually, and you can choose which apps display on the screen using Ledger Live, Ledger's mobile wallet app.
The Ledger Nano S supports around 60 different cryptocurrencies, but the Nano X can support up to 100 different coins via the Ledger Live app. It's a multi-user device, with the addition of Bluetooth, users can connect to their own devices, such as a smartphone, tablet, computer, or Ledger Nano S. 
Although the app is well-designed and intuitive, it's missing a few features, including the ability to select which apps display on the Nano X's screen. Still, it does a good job of keeping track of your coins, NFTs, and balances, and the Nano X makes managing them a lot easier.
Features:
Secure, Safe, and Compact: The Ledger NANO X is a very compact device that will easily slide into your pocket discreetly and can be taken as a normal USB storage device. 

Easy to Use: The device setup is very easy and lets you quickly configure the important stuff to get you going. 

Connects to Your Phone with Bluetooth: You do not have to find a device with a USB port to use the ledger, you can connect your phone with NANO X to use it. 

Supports Multiple Cryptocurrencies: NANO X supports all the major cryptocurrencies, ensuring you are never limited in terms of options.

Supports NFTs & ERC-20 Tokens: You can also store your NFTs in the ledger. 

The Trezor Model T is one of our favorite hardware wallets, thanks to its intuitive interface, strong security, and its ability to function as a U2F token. While it's pricey (adjusted for inflation, it's more expensive than it was when it came out in 2018), it's still a bargain when you consider that your bitcoin, ether, and other digital coins are potentially worth thousands of dollars. 
The Model T is one of the few hardware wallets that can store a variety of coins, including bitcoin, ether, Ripple, and others, as well as a number of different online currencies, such as Doge, Monero, and BitConnect. It's durable, and given that no one ever sees your seed (the 12-word recovery phrase), it's virtually hack-proof, at least in theory. 
It has a touch screen that is easy to use compared to Ledger Nano S. 
Features:

Easy to Use: Trezor T is easy to set up and use, and the shift to Trezor is near seamless. 

Simple User Interface: The easy-to-navigate UI has all the things that you need in one place, this helps to make changes and implement other things very quickly and easily.

Supports Different Cryptocurrencies: Trezor Model T supports all the major cryptocurrencies, providing a one-stop product to store all your assets. 

Advanced Privacy Features: The security is robust with the different protocols that have been embedded to give you peace of mind. 

Customizable and Secure: Trezor has been the torch bearer of innovation in the Crypto security field. Their addition of the Shamir Backup (SLIP39) technology takes things to the next level. 

Ledger Nano S Plus is one of the best hardware wallets that you can buy. It's simple, easy to use, and safe. The Nano S was certified as EAL5+ certified, making it one of the more secure devices on the market.
It comes with a recovery seed, so you can easily restore your coins if the device ever gets lost or stolen. It also has a screen display that shows how much BTC and ETH you have, and it has a built-in light sensor that shows the current light conditions. The Nano S is inexpensive and doesn't take up much space. 
It comes with a USB cable for connecting to a computer, and it also has a USB OTG port for connecting to a phone or tablet. The Nano S has a solid aluminum case. 
Features:

Protects Your Cryptocurrencies & NFTs from Hackers: The rigid security protocols of the NANO S keep your advanced keys offline to protect them from any attack. 

Highly Secure CC EAL5+ Certified Chip: The security chip also reaffirms the commitment and prowess of the Ledger NANO S when it comes to protection so that you can store your assets with peace of mind.

Memory: There is sufficient memory to install up to 100 apps at once, which sets a standard in the industry. 

LCD Screen: The LCD screen provides crucial data to the user at a glance, so changes can be implemented if required.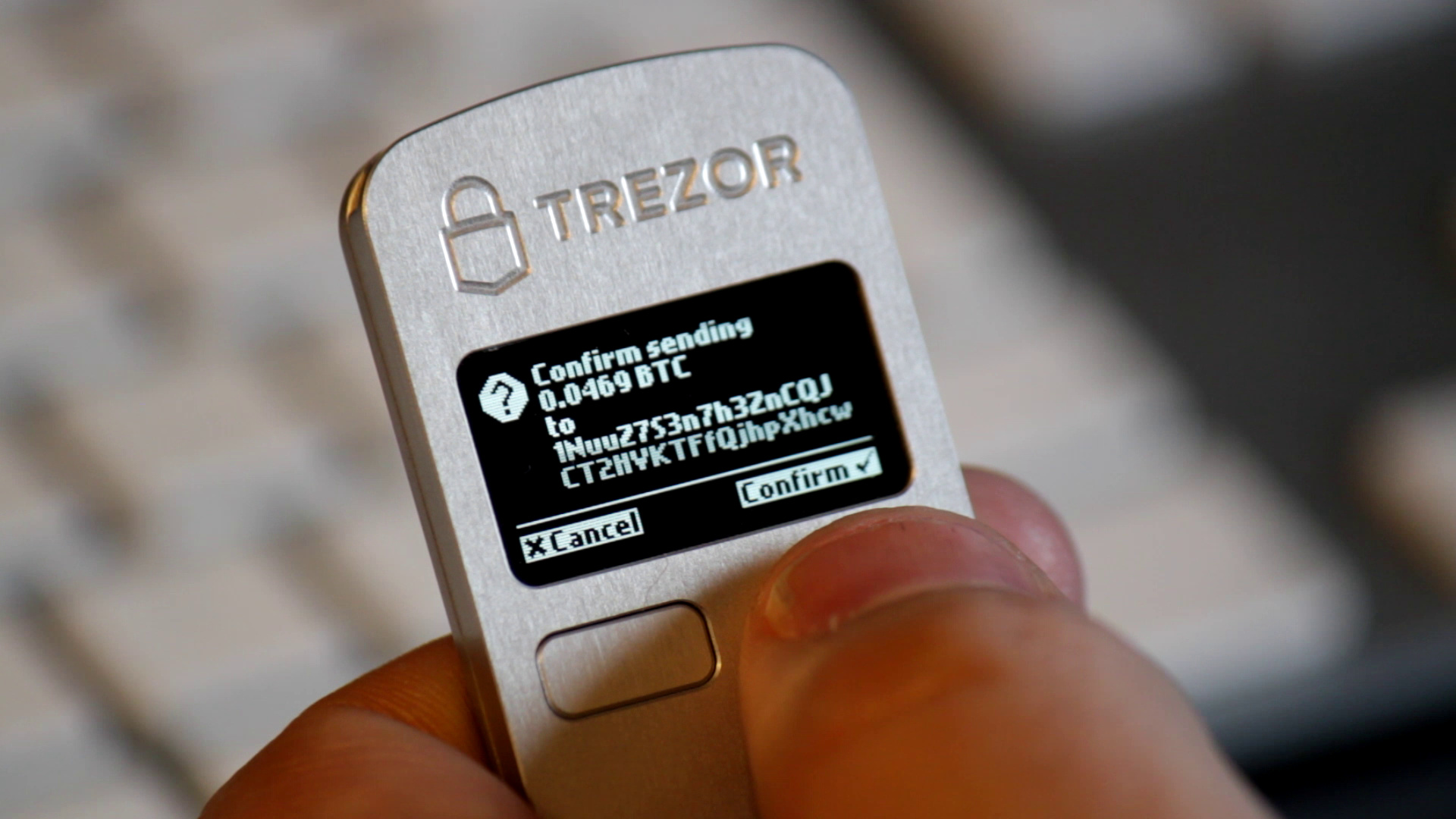 The Trezor Model One is the predecessor to Trezor Model T. It has similar features, but without a touchscreen and costs way lesser. 
It also supports over 1,000 different coins, which is more than most other hardware wallets and cards. The Model One costs less and is easier to use, and has fewer security restrictions and other kinks than Trezor's other models. When paired with the Trezor Bridge, it's one of the easiest hardware wallets to use, though connecting and disconnecting it to a phone or PC can be a hassle. It's ideal for casual cryptocurrency traders, thanks to its built-in screen, wallet support, and compact form factor.
Features:
Highly secure: The Model ONE wallet uses multiple layers of encryption to keep your crypto safe.  

Programmer friendly – Trezor supports complex chains of addresses and multisig transactions. 

Multiple options to suit the needs: You Buy Trezor Model One as Trezor One or Trezor Model One + Recovery Sheet + MicroSD Card.

OLED: The 128×64 px resolution OLED screen is a great way to see updates and confirm transactions.

The CoolWallet Pro is one of the best hardware wallets for portability. This wallet is recommended by leading exchanges like Binance and Coinbase and is also a secure solution provider for manufacturers like HTC, LG, and ZTE. 
The wallet has a 10,000-strong library of supported tokens and connects to your phone via Bluetooth for fast transactions, and its hardware security is a nice bonus. It stores multiple cryptocurrencies, and it supports a wide variety of exchanges. You can store tokens, security keys, and private keys on your device. You can spend tokens for DeFi applications and transfer them to exchanges, and you can set up auto-buy orders for your favorite tokens. 
The CoolWallet Pro isn't exactly cheap, but it's more than worth its high price tag if you're serious about securing your crypto. It supports NFC for ultra-secure transactions, and it's equipped with a chip (which CoolBitX calls a Secure Element), which is a bit of a departure from the Trezor hardware wallets, which don't actually have chips.
Features:
Encrypted Bluetooth Connection: Check your portfolio or trade crypto on the go by connecting the CoolWallet via Bluetooth. 

150+ Supported Tokens: Wide range of supported tokens and cryptocurrencies ensures that your trading options are never hindered.

Secure Cold Storage: Valuable assets are placed in cold storage that minimizes the threat of an attack to keep your funds safe.   

Enhanced Security: The CC EAL6+ rating is a benchmark for security protocols that will keep your assets safe and secure. 

The Billfodl offers you safe storage for your 24-word recovery phrase, ensuring that bad guys can't steal your bitcoins. It's made from stainless steel, so you'll never have to fear rust. The case may appeal to those who want a wallet-size solution, but you also get the peace of mind that comes from having a durable backup phrase. 
The. It's designed to protect your key during house fires, car crashes, and earthquakes. It even has a secondary, waterproof compartment where you can store a backup copy of your phrase. And, of course, the Billfodl also lets you store private keys since it can read bitcoin and altcoins, as well as treasuries and Ethereum. But the best part about the Billfodl is its easy use.
No complicated key management or recovery processes. Simply spell the 24 words of your recovery phrase into the Billfodl, and slide each character into its designated slot.
Features:
Made of Marine Grade 316 Stainless Steel: The Billfodl is the final word when it comes to backing up your keys in the safest way, the wallet is made up of stainless steel that is -Water, Fire, and Shock Proof so that your keys are always safe no matter the situation.