OKX cryptocurrency exchange has gained a lot of popularity in recent years, but how does it stack against other crypto exchanges in the UK? In this detailed review, we'll take a look at the OKX features and availability so you can decide whether it's the right exchange for you.
OKX Features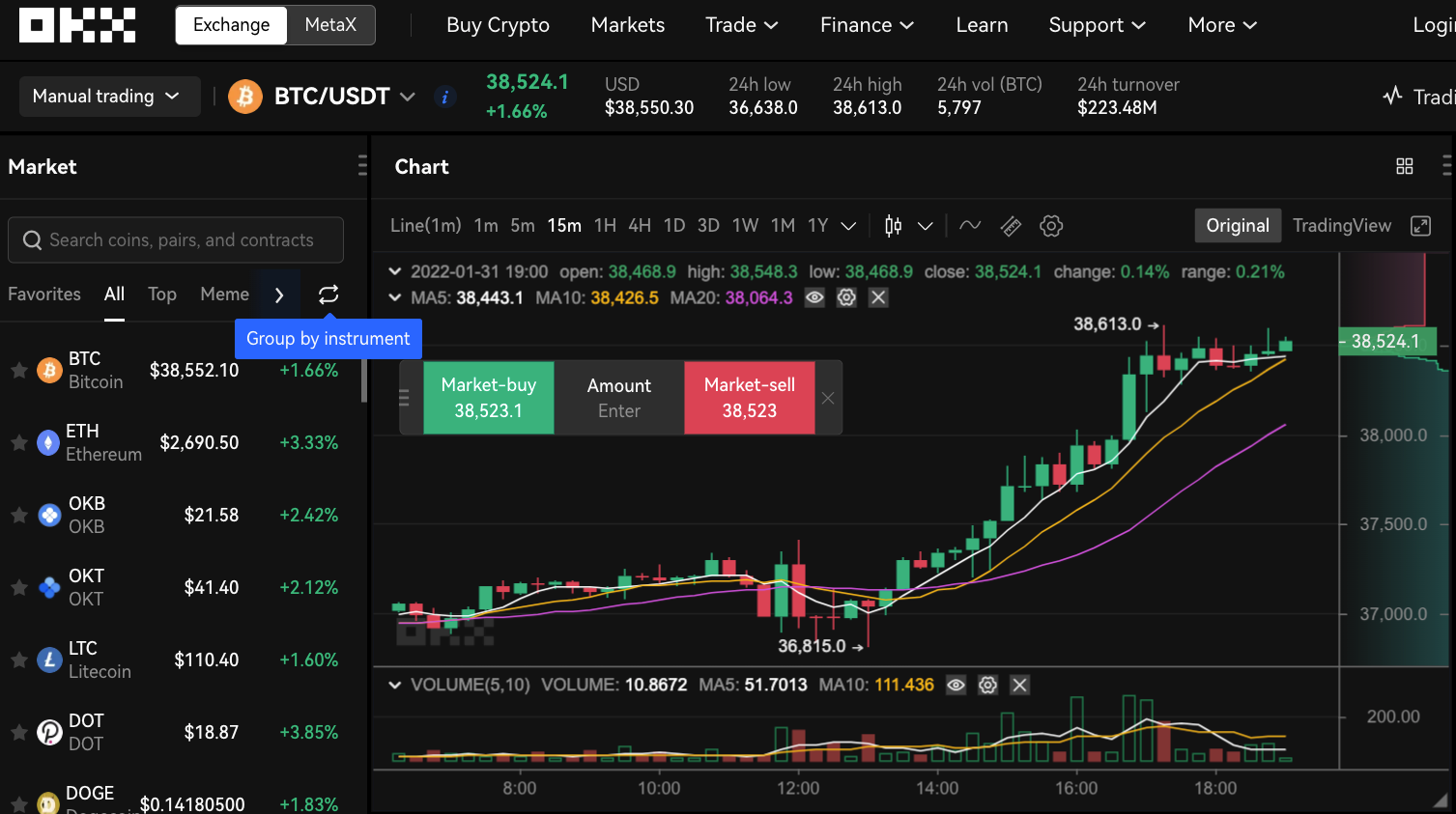 Simple convert – OKX allows for a fast and effortless coin swap where you can swap coins without any fee.
Crypto exchange – Traders can trade their crypto in a full-fledged exchange with an order book and other important data a trader needs to make the right trade. In addition, there are price movement charts and trading volumes. The exchange also offers futures, options, margin trading, and perpetual swaps for advanced traders.
Trading bot – OKX offers the user the opportunity to make a trading bot that does not require coding knowledge. The user can set the floor and ceiling price for the bot to buy or sell an asset. This automation can help traders make money without the need to trade actively.
Block trading – OKX also lets users do Over-the-Counter trading where high order volume traders can bypass the exchange, hence the fee(which is already very low). This is only profitable if there is no Slippage.
Jumpstart – Traders can also become early bird investors in cryptocurrencies that have been thoroughly examined and vetted by OKX. The initial offering platform allows investors to get early access to projects researched by the OKX team.
Crypto Availability
OKX supports more than 300 assets and has staggering 670 market pairs.
It supports all of the major cryptocurrencies, some of which are mentioned below:
Bitcoin
Ethereum
XRP
OKB
Polkadot
Dogecoin
Terra
Polygon
Solana
Yearn.finance
TRON
JUST
Avalanche
Shiba Inu
APENFT
Fees
The trading fee on OKX depends on the type of trade and the crypto. Spot trading fees tend to be higher than other types of trade. OKX has a tier-based system that calculates the chargeable fee. For example, traders with a stake in the OKB currency will be subject to a lesser fee than non-stake holders. The trading volume is a deciding factor.
For spot trades, a fee of up to 0.10% can be charged. This is one of the lowest in the industry, and the stakeholders of OKB can get discounts on the fee.
The fee on normal trading is 0.08% for the maker and 0.1% for the taker, given that the trader has no stake in OKB and has less than £4.6 million in trading volume in the last 30 days.
Depending on the OKB holdings and trading volumes, the Maker and Taker fees can be as low as 0.06% for the maker and 0.08% for the taker.
There is a VIP tier based on the trading volume or the assets that a trader has. For example, the VIP 1 tier, the lowest tier in the VIP category, can be achieved by having £92k worth of assets or £920k trading volume in the last 30 days. The maker and Taker fee for the VIP tier goes from 0.060% (Maker) and 0.080%(Taker) for VIP 1 to -0.005%(Maker) and 0.02%(Taker), the -0.005%. The trader earns money by purchasing crypto on the platform.
A major downside of OKX is that it doesn't fully disclose the fee for deposits or withdrawals, which does not reflect nicely on the overall opinion of the platform.
Safety
OKX follows a high standard when it security. The platform stores its asset in cold storage and has advanced features like withdrawal passwords and anti-phishing codes.
Many consumers complained that their accounts were hacked into and their assets were stolen. Upon investigation, they attributed it to the lack of proper security measures, but an investigation revealed that the consumers failed to enable security measures on their accounts like 2FA.
Pros
Low trading fees: OKX has one of the lowest trading fees for any platform, making it an attractive option for traders. High Volume traders can even earn money for buying crypto.
Lucrative staking opportunities: Traders can earn up to 100% interest by holding cryptocurrencies.
Easy to buy: It is very easy to buy crypto using a Debit or a Credit card, Apple or Google Pay, Bank Transfer, etc.
Supported Crypto: OKX has a large variety of supported assets with up to 300 coins and tokens and 670 market pairs.
Cons
Low liquidity A few currencies at have low liquidity on the exchange which is a surprise considering how popular it is.
But you should not have any trouble with any of the popular cryptocurrencies.