In June, we shared our analysis of how past BNB token burns affected the price of the token (vs BTC). Our analysis showed that BNB token burns are usually preceded by a period of significant price increase, followed by a sharp sell-off and price decrease in the days immediately before and after the burn date.
Despite these short-term burn-related price movements, we showed the BNB has seen impressive and steady growth, especially during 2018 in which the majority of the market has taken a big hit. We believe that this is due to the utility of the token, given that Binance is a hugely successful cryptocurrency exchange and that the token provides discounts on fees, boosts referral bonuses for affiliates, and is rumoured to play a large role on the forthcoming Binance Chain and DEX.
We wanted to update our June post, ahead of the October 18th token burn, as we believe that the build-up for the burn – if it happens this time – will commence soon. Of course, it should go without saying that past performance is not an indicator for that of the future, especially given the bearish state of the market this year. As you will see from the below charts, the burn in July of this year did not conform to expectations.
Enough fluff, here's our chart: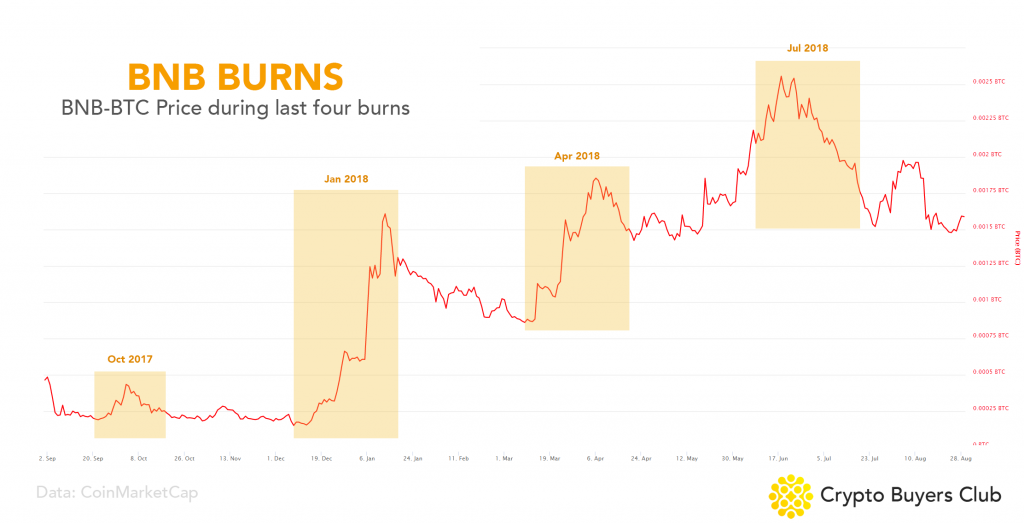 We try to keep our comment to a minimum, as we do not provide investment advice. Rather, we provide charts and graphics like these, and you can draw your own conclusions.
We hope you find it useful, and thank you for reading.
---
A little information about BNB token burns
Binance Coin Token Burns: Each Quarter, Binance uses 20% of its profits to buyback and burn BNB tokens. This process continues until half (50%) of the total BNB supply (100 million) has been burned.
The first token burn was announced on the 15th of October 2017, with the burn itself being carried out on the 18th of the same month. This pattern has been consistent throughout the three token burns to date, leaving us to assume that token burns will proceed on the following schedule…
Binance Coin (BNB) Burn Dates, Past and Future
Note: It is assumed that Burn Announcements will take place three days prior to the burn dates (i.e. on the 15th of each burn month).
2017: 18 October
2018: 18 January; 18 April; 18 July; 18 October
2019: 18 January; 18 April; 18 July; 18 October
… (until 50% of BNB burned)